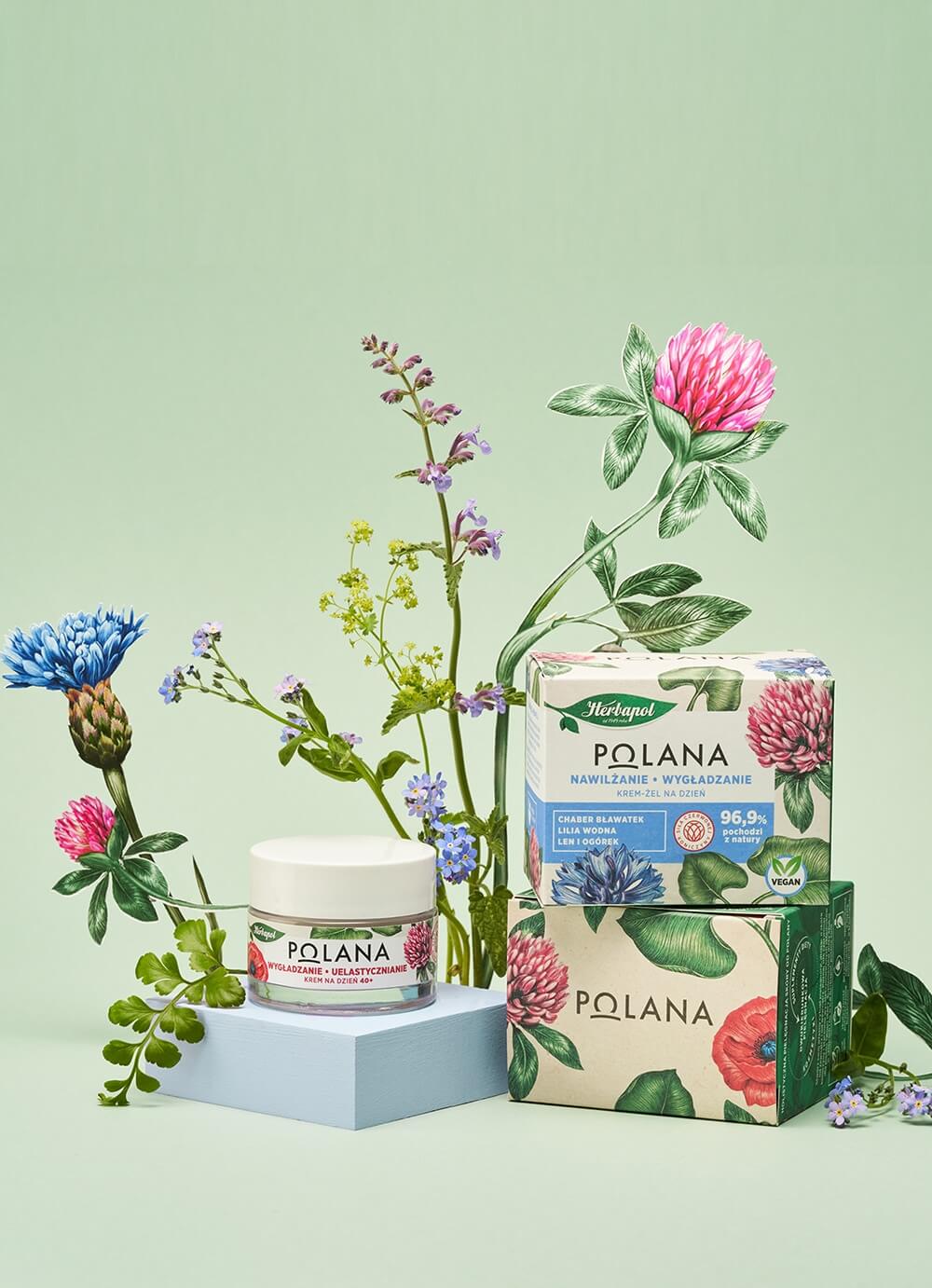 Wading through the bush of cosmetics, now you have an opportunity to come across our naturally beautiful, semi-wild Polana/Glade.
We are a part of nature. Full stop. Yet, actually this a beginning, as it is worth to keep realizing it. Just like an increasing number of people, who turn towards nature in their search for efficient and safe ways of caring for the beauty and health.
Responding to these needs, Herbapol decided to go for a brand new category – cosmetics.
Not "regular" ones, but those that are bound to the holistic approach, where what out and in matter. Our task was to establish Polana/Glade, a new Herbapol brand, offering both skin care products and dietary supplements.
Formulas of particular products are based on the potential and influence of valuable ingredients contained in local plants and everyone knows that Herbapol has a unique capability of gaining them. For end users, this producer represents not only herbal competences, yet is also a guarantee of relevant raw materials and high quality. That's why we have taken care of a proper branding, where Herbapol operates as a supporting brand, that provides credibility.
However, most of all we focused on establishing a distinctive visual language, not depending on the Herbapol's food portfolio, that corresponds to the cosmetics industry.
Our Polana/Glade is a world full of plants – so important to formulas and the project itself. Here is the place, where cornflowers, daisies, field poppies rule… Yet, all in all, this is a kingdom of a red clover, that is named "a plant of women" due to its unique properties.
Pictures of plants have become main characters of the graphics. We decided to show them in a form of a herbarium and botanic sketches. Drawn with a crayon, they wrap around the packaging, turning it into a glade or meadow.
Thanks to Polana/ Glade we move into a world of a wild nature, full of bounties, that serve us each and every moment and let us look forward to a brand new day. This type of thinking has been reflected in the sign, presenting a motif of a rising sun, located far on the horizon, symbolizing a new chapter and a natural beginning.
The concept has been applied a full range of products. Due to a large number of them, an adequate architecture on packagings was required – i.e. color panels facilitating coding and communications (blocks of text in a table form).
All these measures have been applied to make the contact with Polana/ Glade a source of purely gorgeous emotions. We do believe that female consumers will feel really comfortable down there.
Read more
Read less